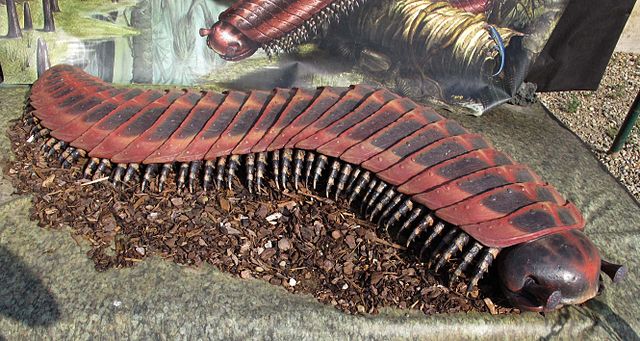 Photo by Sailko
Arthropleura was a eight and a half foot long millipede that dwelled in the Carboniferous period 340 to 280 million years ago, as well as in your dreams tonight.
It's been a few months, but goiardi 0.9.1 - Arthropleura is out now. As it happens ChefConf is going on right now. This release wasn't actually timed to come out at the same time as ChefConf, and I wasn't able to make it there this year, but that's how it worked out.
This is yet another interim release addressing some issues that were brought to my attention over January and February that then got put on the back burner for a bit while I was on vacation, busy with real work, and just taking a bit of a goiardi break after I was getting kind of burned out from cranking on it too hard for too long. It slowed down goiardi development for a while, but I was getting pretty useless for a while there anyway.
From the CHANGELOG:
* Fix error where requests for zero byte cookbook files would crash.
* Authentication docs improvments (thanks oker1!)
* Rewritten and more robust cookbook depsolver.
* Fix for client creation with cheffish (thanks whiteley!)
* Fix for search where searching for something like "foo:bar AND NOT foo:bar"
  was returning incorrect results. (brought to my attention and test provided
  by brimstone, thanks!)
* Fixed a bug where clients could be created with the same name as a user (or
  vice versa) in in-memory mode.

This release has quite a few contributions from others. Thanks go out to oker1, whiteley, and brimstone on github for their pull requests and bringing issues to my attention.
Coming up, I'm planning on at least one more release before 1.0.0 comes out, which will bring more search improvements to finally deal with search performance when there are thousands of nodes. The current ersatz solr implementation works fine for smaller installations, but once there's a lot of content to be indexed the RAM and speed become problems still. After that these new changes will need to be merged into 1.0.0 and then that branch will be wrapped up. When I left off that branch's development it was coming along nicely, but still had areas that needed tightened up to fit standard Chef server behavior more closely.
comments powered by

Disqus